There are two outcomes of strategic work (regardless of what it is called). The first, Defining a Path Forward, is about mission, vision, goals, and strategy to provide a direction and target for the future. There's no doubt that we need all this, but it is often viewed as the entire purpose of the strategy work. And there is a lot of information available about how to do this…to engage the community, to assess assets and challenges, to define objectives and measure results. Most likely, when you think "strategic planning" this is what comes to mind.
The second outcome is less popular: Coming Together in Commitment. This is about a staff and its key supporters being aligned, energized, and committed to the Path Forward. Commitment is what makes the Path Forward possible; it doesn't happen through Board motions, or quick polls of support, or early funding promises. The time for this to happen is during the work to Define a Path Forward. This is about creating a North Star for everyone involved; this is as much emotional as it is analytical.
When in place, broadly felt Commitment provides essential optimism to the everyday work. The Together part helps fend off any isolation that may be felt by individuals when things don't go well. Each member of each group needs to believe that they are not alone in their enthusiasm, and that the synergy of the groups working towards this goal is an asset on which they can depend.
Well designed and managed strategic work is an artful integration of these two focus areas.
It is usually more advantageous to dial back the ambition in the Path Forward in order to give the staff and Board a positive experience of Coming Together and see their Commitment be successful. In other words, create more conservative goals but make sure they are created and achieved through everyone's participation. This provides optimism and confidence, which over time and with some success, extends ambition. In the long run, loftier goals are more possible.
Overreaching on ambition, and then cajoling the staff and board to somehow make it happen, is an unfortunately common approach. This is sometimes the result of one or more leaders who perceive unfulfilled potential in the organization and are frustrated. This frustration can be great energy for strategic work if channeled well (just not channeled as overreaching). Or, it can be a subtle form of coercion from a key funder: "If you aren't going to do what I want, I might reduce funding."
Here's a simple graphic that can be a useful tool as you integrate these two qualities of strategic work. The red line follows one organization's journey; you'll need to plot your own.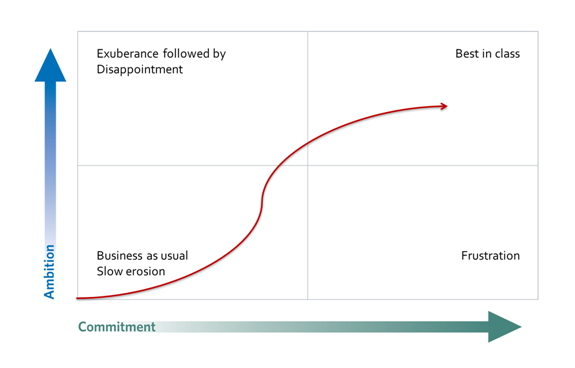 I'd love your thoughts on this; please write me at matt@kayhoe.com.