Principles for Distributing Responsibility between Staff, Management, and Board
Board members are temporary, part-time volunteers with diverse backgrounds and viewpoints. They are informed by prior experiences and experts (and wanna-be experts, and spouses, and friends, and…). Twelve Board members can have twelve differing views on their own responsibilities.
Staff members usually have career paths and resumes to build. This brings a need for success and recognition that is core to their personal well-being.
The world moves fast; nonprofits need to adjust strategy, form unexpected alliances, and shift mindsets. As an organization matures, the answer to "Who Should Do What?" shifts:
The staff takes on more of the decision making and strategic work,
Leadership moves from hands-on to facilitative,
Board lets go of all of start-up and early stage work to become truly focused on governance.
This question – Who Should Do What? – is critical. A shared set of expectations of "where we are now" and a shared roadmap for "where we are going" is a powerful lubricant for effectiveness and impact.
On the other hand, when not clarified and aligned, this question is perhaps the biggest cause of lingering friction between leaders and their Board members; it is a "silent but crippling disease." The staff senses it when priorities shift and assignments change without adequate explanation (and they witness the visible frustration of the CEO/ED).
Here's a simple formula for addressing it, to serve as either a solution or a starting point for conversation in your organization.
Healthy Division of Responsibilities for a Mature* Non-Profit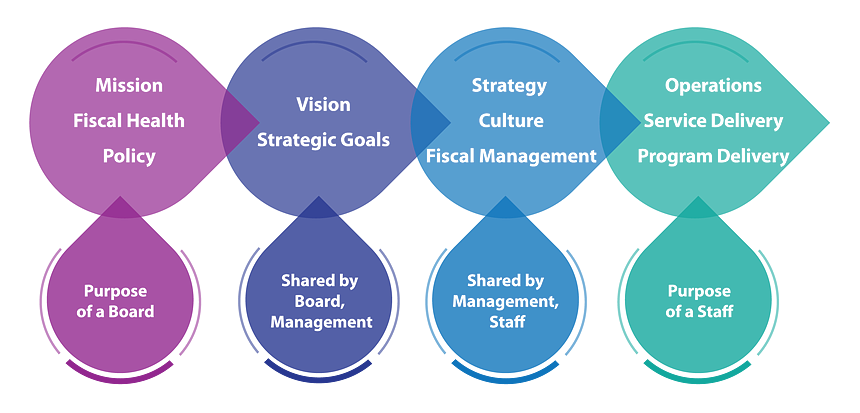 Mission = the enduring purpose of the organization, which if fulfilled, puts the organization out of business
Vision = how the organization desires to impact the world in the next period of time (usually 2-5 years), and how it will grow and change
Strategic Goals = goals that will translate the Vision into reality
Strategy = the plan for accomplishing the Strategic Goals
Culture = the behavior and attitudes that represent the Mission, enable the Vision, and will support successful implementation of the Strategy
*for early stage nonprofits, everything shifts to the right, and moves to the left as the organization matures, eventually ending up here